George Corn's nightmare that cant be protected by Max Baucus
The Ravalli County Suicides occurred in 2005.

The informal group about injustice began in 2007. What drove me was the knowledge that the people responsible for this situation were being given a pass, and continued to abuse American's rights.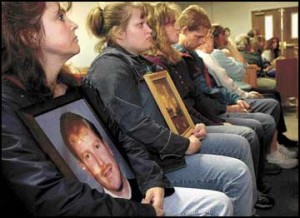 victims families listen, and later walk out on Sheriff Chris Hoffman in 2005
[Photo courtesy of the Missoulian]
read about his meeting where this photo came from
:
George Corn is SO vain if he thinks people dont know the truth.
he made the 4 detainees give up--by violating their right to not have excessive bail.

The people know who is vain in Ravalli County.
If George Corn had a conscience, he should have difficulty getting through each day.
A meeting we had in the basement of the Bitterroot Public Library (before I was no longer allowed there--also in violation of my rights; and even a US Judge is protecting the abuse in Hamilton, MT) I looked out at the people looking at me for help. Little did I know that the first African American President would also ignore our civil rights requests. It is because civil rights problems, like the inmates faced in the Ravalli County Detention Center are going on in every state in our Union. We no longer have an expectation of constitutional rights. I knew I had to step up.
The 2009 Montana Letter to the US President (includes 2005 suicides in letter, many other things)
http://www.montanapoliticalnews.com/2011/06/open-letter-to-president-obama-pleading.html
Little did I know I would give up my work life.
Little did I know that the Attorney General, now Governor candidate Steve Bullock would threaten my job, my house and destroy my short but decorated career with FEMA. [see "Recall Bullock" online]. While my own rights were threatened, I found out the entrenchment, and deep political history of Montana was grounded in these same violations of rights, and the belief by the people in power that no person would dare speak up. We did.
We made a documentary about the problems in Montana.
It is called "Beneath the Beauty" and it is still available. I asked my film producer friend to make it without direction, knowing all roads led to George Corn the former Ravalli County Attorney due to our efforts for justice. The Bitteroot Rising website was ordered down, but due to a help from a powerful online person, we kept this site archived, and it documents the hell the four inmates endured.
Bitterroot Rising Archive: 238 pg of American Hell in Hamilton MT.
http://www.northwesttribune.com/2010/12/bitterroot-rising-archives-truth-will.html
Violating eighth amendment right to excessive bail, George Corn directed high bails, and had influence over all of the judges to maintain his abusive line in Ravalli County.

Read Prosecute Goerge H. Corn for Murder about the 2005 suicides:
http://www.georgecorn.com/2012/10/prosecute-george-corn-for-murder.html
The people got rid of George Corn, who needed White House help to protect him, but he is still in hiding in Hamilton Montana at the private firm owned by Milt Datsapolous. Sheriff Hoffman is needed to protect the criminal activity that continues unchecked today within the Ravalli County Sheriff Office. The Judges remain who violated the rights of the accused in Ravalli County, one judge only stays to merely retain medical insurance; there is no sense of duty to the public.
There are no checks and balances in Ravalli County. You are judged and you are condemned if you go against the good old boy lawless community. It is a brutal, disgusting, and protected entity in a State that ranks last for Justice: 48/48. The worst psychology imaginable from Abu Grahib, to GITMO, to The Stanford Prison experiment is propagated by the fear it eludes. Stockholm Syndrome: where there is great fear in your captors, and a start at trying to appease them so they dont attack you more.
The group I worked with knew no fear. We had been in jail, we had seen the incompetence in the law enforcement, and justice system in Ravalli County. We documented it in a DVD, and we wrote to the sitting US President. The problem was, his #3 was from Missoula, Montana and Max Baucus had a great interest in protecting his friend George Corn in Hamilton Montana.
read the Montana US President Letter here
[which brought FELONY charges for speaking in public]
http://www.montanapoliticalnews.com/2011/06/open-letter-to-president-obama-pleading.html
One of the things we found out in our "travels" to justice was then Sergeant Ryan Oster, now Chief of Police for the Hamilton Montana Police Department went into the cell block of the Ravalli County Dentention Center (RCDC) and encouraged these suicides due to him thinking "they had no chance".
Here is Ryan Oster, trained by Sheriff Chris Hoffman
unlawful entry into residence on videotape.
[now translated into 9 languages]
Probation Officers in Ravalli County
unlawful entry without reasonable suspicion
.
called for Chief Oster & Law Enforcement "backup" although CODE 10-38 "
everything OK
"
If you live in Ravalli County, or a victim of Chris Hoffman in 2005
you know everything is not OK.
Here is Sheriff Hoffman's "word" A man is only good as his word.
The prejudice and ignorance make a deep seated problem for Ravalli County Montana:
I know Geoff Mahar as a prosecutor for Ravalli County and others had extreme religious beliefs that condemned the four men for their lifestyle; be it homosexuality, drinking history, or just merely being "scum" to them. When Corn was canned in 2010, Geoff Mahar was too closely attached (and former Chief Deputy Ravalli County Atty) broken down to mere civil deputy.
Asking Geoff Mahar to resign
: December 2010
http://www.prosecutorcorruption.com/2010/12/deputy-county-attorney-resigns-ravalli.html
The full result of this breakup has not been fully felt due to Oster, Hoffman, and most Judges not yet removed. Geoff MaharRavalli no longer works for the County Attorney office, but if that means that one person may be spared as Mr. Mahar did not tell the Sheriff of the suicidal condition of at least one of the four 2005 suicides in the Ravalli County Detention Center.
While this corrupt web is most incredible, it included the Lee Enterprise newspaper chain which has a monopoly in Montana [
www.LeeEnterprisessucks.com
]. The newspaper protects, and prints on demand for George Corn (or Ravalli County), defame, print false arrests and convince the public in Ravalli County (65% with HS Diploma as education) that the "offenders" were bad people.
Montana Print Media Exposed: Lee Enterprises in Montana; George Corn former editorial staff.
Missoulian who had charge over the Ravalli Republic Newspaper. They decided to publish upwards of 30 defamatory articles about me to profit from, as they did the 4 from the RCDC in 2005.
People are profits, and the demise of people can be rewarding if you are a person without a conscience like George Corn, and his former puppet Chris Hoffman. Lee Enterprises might last a year due to their stock price staying below a dollar since May 2011. These are the victories that the families can be more peaceful about. Our group, and my efforts have "retired" officials like the City Attorney from Hamilton Montana, Ken Bell who engaged in crime by entering a civil courtroom on November 20, 2009 outside of his duties. The State Librarian is also gone, after defending the Bitterroot Public Library's efforts to criminalize asking for the 10pg US president letter to be on reserve.
An abusive Detective named Nic Painter was removed from the Hamilton Police Department after he ran into a house outside of the city limits after a boy who lived in the residence. His dad served in Vietnam, and reportedly put a gun to Painter's head once inside. These are ways that good people correct the wrongs that spiraled into the mess that is very hard to understand in Hamilton Montana.
A similar event occurred on October 4, 2011. The Hamilton Police Chief entered my house unlawfully. Although I did not put a gun to his head, I grabbed my video camera and documented it.
Chief Ryan Oster who encouraged the 2005 suicides in Hamilton Montana
I then went to the next city council meeting and told them what was up about Ryan Oster. When many tried to come forward with this information (about the "induced suicide"); it is now on tape forever. The current Hamilton City Council knows the truth, and those who tried to come forward, and were charged with "DUI" and stopped can rest easy. Ryan Oster's secret is now out.
Hamilton City Council Meeting October 18, 2011 7pm.
Public Comment
VIDEO ABOVE TELLS OF RYAN OSTER ENCOURAGING SUICIDES
For the families, I hope this brings you more peace, because this might be all we get. It is all I can do. The lie and cover up will sink a US president for ignoring us; millions of readers have seen our US President letter asking for civil rights. George Corn is no longer in charge, and things have slowed a bit with the corruption. Having the courage to come forward is important, and exposing injustice extremely important.
UPDATE
FOR 2013: A new national group is formed called Lawless America. All 50 states are included. Please friend on facebook, and visit their sites and CONTRIBUTE to this cause. They are meeting in Washington DC Feb 5-7 2013.
www.LawlessAmerica.com
In no way have I tried to exploit the situation in Hamilton, Montana: the documentary proceeds go to my film producer towards cost of production. We have all suffered here, and stood up, and will continue to stand up until the people in charge in 2005, or in office are removed. Our observers saw activity on June 8, 2010 at the Republican primary which indicate Hoffman was kept in office artificially. There is too much at stake at having a new, qualified Sheriff in Ravalli County.
The race for JP between Clute and Sabo could be argued the same way. Hamilton is too scared to let their protection racket break up. They all protect each other, and needed to reach out to the US White House to protect them....that's a big compliment to the folks on the ground who stood up.
Peace to the families, sorry for your loss. Your lost family members from the Ravalli County Detention Center drove me to work really hard; I had my own severe losses in Ravalli County.
Corruption builds in strength and gets too powerful, and hurts many people. The people must stand together and break up the collective and unlawful process that local governments in Ravalli Co. use as their daily bread. Its business as usual until one of us says enough.
I am constantly amazed at the denial and coverup of the 2005 suicides in Ravalli County. You would think people with consciences would analyze their contribution, and really hit the reset button to not allow it to happen again. Instead they mutually cover it up.
Corruption hurts, and in 2005 it killed.
Until someone stands up and says something, Ravalli County is no better than the worst of humanity.
----------------------------------------------------------------------------------------------------------------------